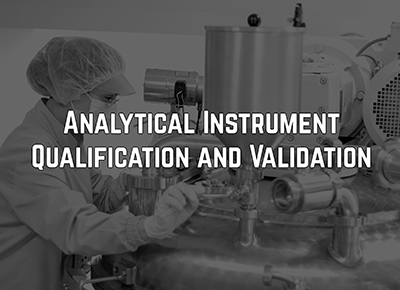 Event Description
ANALYTICAL INSTRUMENT QUALIFICATION & VALIDATION – USE OF EXCEL AND FDA AUDIT PREPARATION 2022
ANALYTICAL INSTRUMENT QUALIFICATION & VALIDATION – USE OF EXCEL AND FDA AUDIT PREPARATION
Dates: JULY 7 - 8, 2022
Time (Eastern Time US): 10 AM to 3 PM
Time (Central Europe): 4 PM to 9 PM
Duration: 2 DAYS
Course Director: JOY MCELROY
ABOUT THE COURSE
In this two day workshop conference you will learn the different global agencies expectations of analytical equipment qualification along with the development of a sound process validation program in order to develop and implement bulletproof solutions that are accepted, effective, and efficient. Through case study analysis we will examine best practices to provide thoughts and ideas to develop or improve the performance of your current system.
Additionally, case studies will explore how your management practices of your analytical equipment qualification/ validation and process validation programs can help or hurt your legal liability and the legal issues that arise from nonconformance with regulators and Auditors. The cost of non-compliance is therefore more than that of compliance. Are you in compliance with the FDA regulations for analytical equipment qualification and validation in your facility?
This seminar will help attendees understand the instrument qualification and system validation processes and will provide instruction on how to prepare for FDA audits and how to become part 11 compliant.
SEMINAR OBJECTIVES
Learn about the regulatory background and requirements for laboratory instrument qualification and system validation
Understand the logic and principles of instrument qualification and system validation from validation planning reporting
Understand and be able to explain your company's qualification and validation strategies
Be able to independently prepare and execute test protocols, this includes setting specifications and acceptance criteria
Understand how to review and approve qualification and validation protocols
Understand Validation and Use of Excel in the QC Laboratory
Learn about Handling raw data and other laboratory records
Be able to develop inspection ready qualification and validation deliverables
Learn how to avoid and/or respond to FDA inspectional observations and warning letters
This seminar will be beneficial personnel in pharmaceutical development and quality control laboratories and contract testing laboratories as well as Individuals that have Quality Management Systems responsibilities for making general improvements in their organization's performance specifically related to equipment and processes. Following personnel will benefit from the course:
Laboratory managers, supervisors and analysts
IT managers and staff
Consultants
Laboratory suppliers of material, equipment and services
Senior quality managers
Quality professionals
Regulatory professionals
Compliance professionals
Production supervisors
Validation engineers
Manufacturing engineers
Production engineers
Design engineers
Process owners
Quality engineers
Quality auditors
10:00 AM - 03:00 PM
DAY 1
Lecture 1 :
- Requirements and approaches for Analytical Instrument Qualification
- Going through the qualification phases
Lecture 2 :
- Testing and deviation handling
- Retrospective qualification and Requalification
Lecture 3 :
- Equipment Maintenance and Change control
- Type and extend of qualification for USP Instrument Categories
Lecture 4 :
- Requirements and approaches for Laboratory Computer Systems
- Examples for risk assessment of computer systems
10:00 AM - 03:00 PM
DAY 2
Lecture 5 :
- Validation of Laboratory Computer systems
- Preparing inspection ready validation documentation
Lecture 6 :
- Validation and Use of Excel in the QC Laboratory
- How to ensure spreadsheet and data integrity
Lecture 7 :
- Periodic review and revalidation of chromatographic data system
- Handling raw data and other laboratory records
- Ensuring Integrity and Security of Laboratory (Raw) data
Lecture 8 :
- Auditing Laboratory Computer Systems and records for FDA Compliance
- Learn how to avoid or respond to FDA 483s and warning letters
For registration/tickets purchase:
https://www.eventura.us/seminar-on-analytical-instrument-qualification
Event Types (Select all that apply)
Event Registration Contact Email
rashmi@eventura.us
Event Information Contact Email
rashmi@eventura.us
Abstract Submission Deadline