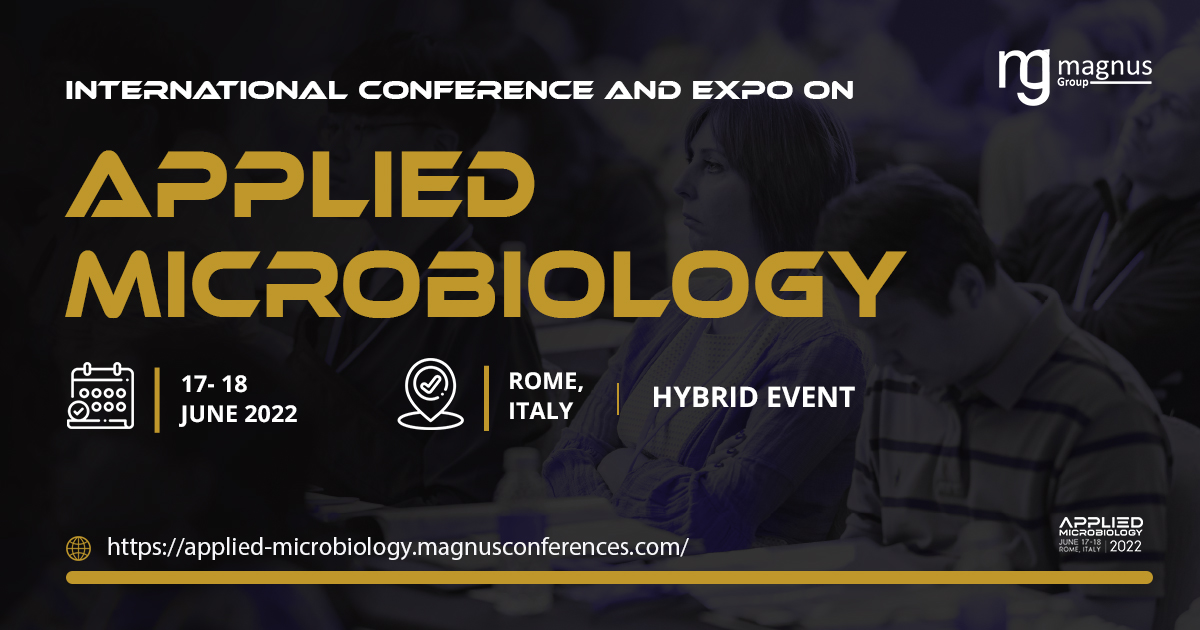 Event Description
International Conference and Expo on Applied Microbiology 2022 rome Italy
Magnus Group is pleased to extend a warm invitation to you to join its prestigious event "International Conference and Expo on Applied Microbiology" (ICAM 2022) slated during June 17-18, 2022 at Rome, Italy.
The conference deliberations will be on the theme "Microscopic View of Applied Microbiology in The Genomic Era" and it strives to keep its attendees abreast of the latest happenings and breakthroughs in the field of applied microbiology.
Applied Microbiology is a comprehensive term that incorporates all areas of microbiology and pathology, as well as microbiology processes, atmospheric changes, and infectious diseases. Considering the latest advancements in the aforementioned field ICAM 2022 intends to bring together and collaborate academicians and practitioners from a variety of disciplines, including industry and academia. The event will promote the examination of potential synergies that might be created by combining different points of view. The Applied Microbiology Conference Agenda will feature plenary talks, keynote sessions, poster and oral presentations. This worldwide conference will give a world-class forum for educators, new researchers, and students to present and discuss the most recent advances, potential, and issues in the field of microbiology.
Contact Email:  appliedmicrobiology@magnusscigroup.com
Phone: 1 (702) 988 2320
Whatsapp: +1 (540) 709 1879
Dates: June 17-18, 2022.
Venue: Wyndham Rome Midas, Via Raffaello, Via Raffaello Sardiello, 22, 00165 Rome, Italy
Website: https://applied-microbiology.magnusconferences.com/
Applied Microbiology Conferences 2022 | Applied Microbiology Conferences | Microbiology Events 2022 | Applied Microbiology and Biotechnology Meetings | Microbiology Events 2022 | Biotechnology Conferences 2022 | Food Microbiology Events | Systematic and Applied Microbiology Conferences | Vaccines Conferences 2022 | Micro-organisms Meetings | Applied Microbiology Webinars 2022 | Microbiology Webinars | Microbiology Meetings | Top Microbiology Events | Upcoming Microbiology Events | European Microbiology Events | Top Microbiology Conferences | Microbiology Events in Italy | Italian Microbiology Conferences | Applied Microbiology Online Conferences | Applied Microbiology Congress | Applied Microbiology Summit | Applied Microbiology Workshops | Applied Microbiology Exhibition | Applied Microbiology Symposium | Applied Microbiology Meetings | Applied Microbiology Seminars | Applied Microbiology Colloquium | Applied Microbiology Scientific Talk | 
For registration/tickets purchase:
https://applied-microbiology.magnusconferences.com/register
"Microscopic View of Applied Microbiology in The Genomic Era."
Event Types (Select all that apply)
Event Registration Contact Email
applied-microbiology@magnusconference.com
Event Information Contact Email
applied-microbiology@magnusconference.com
Abstract Submission Deadline