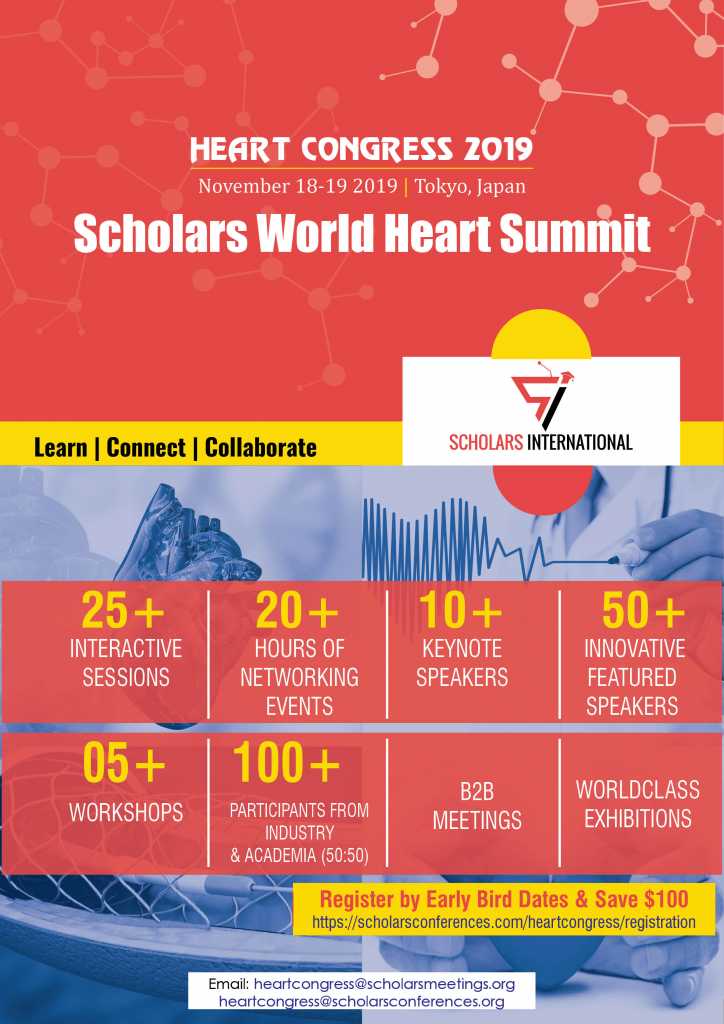 usd
For registration/tickets purchase:
https://scholarsconferences.com/heartcongress/registration
Brief Description
Scholars Conferences is proud to present the highly anticipated "Scholars World Heart Summit" (Heart Congress 2019) to be held on November 18-19, 2019 at Tokyo, Japan. The conference program consists of world-class keynote addresses, industry-led presentations, as well as extensive networking opportunities, creating an interactive platform for high-level scientific and business discussions.
Over 100 delegates representing leading Universities, Colleges, Institutes, Organizations, Companies, internationally renowned research & academic institutions will be present at our prestigious conference.
Abstract Submission Deadline
We extend a warm welcome to the distinguished Nobel laureates, speakers, delegates and all the participants from all over the world to attend Scholars World Heart Summit during November 18-19, 2019 at Tokyo, japan which includes prompt keynote presentations, oral talks, poster presentations and exhibitions.
The Scholars World Heart Summit Scientific Sessions covers basic and translational cardiovascular scientists from around the globe with the common goal to discover pathways to cardiovascular therapeutics and promoting cardiovascular health. This meeting has become the "go to" meeting for intra- and interdisciplinary cross-fertilization of ideas and incorporation of new approaches from the general scientific community and plays a pivotal role in the training of junior scientists and trainees.